עברית
Alphabetical list of artists
A
B
C
D
E
F
G
H
I
J
K
L
M
N
O
P
Q
R
S
T
U
V
W
X
Y
Z
Jean David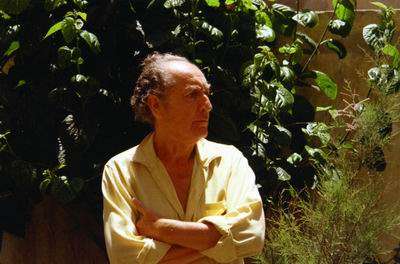 Photographed by Stanley Batkin
69 Articles
15 Exhibition invitations
24 Artwork reproductions
David, Jean, Israeli, born Romania, 1908-1993.

Jean David was born in Bucharest Romania in 1908. At the end of the 1920s he began to study architecture in Paris. He soon abandoned this profession and began to study painting. In 1935 he visited the Land of Israel and remained there for nine months. Upon his return to Romania in 1936 he was accepted into the Romanian Fine Arts Union and was a member until 1939. In 1942 he fled Romania on the way to the Land of Israel, but he was caught by the British Mandate authorities and sent to a refugee camp in Cyprus. Following his release in 1944 he was drafted into the British Brigade, where he served as a painter until 1946. When the War of Independence broke out in Israel, he was drafted into the Israeli Navy. In 1949 he went to live in Jerusalem, where he was active in developing ceramic arts, works in copper, and artistic wall hangings under the auspices of the Ministry of Trade and Industry. In 1950 he was one of the founders of the Ein Hod Artists' Village.

David's primary importance was in the design of posters. He used a wildly colorful decorative style in his art, which combined illustration, caricature, and national figures. In addition he designed wall hangings for "Maskit," and also worked in the decoration of public buildings. His paintings were surrealistic in character and included images from nature and landscapes.
Education
1927 Architectural studies, Paris, France
1927 Painting, École nationale supérieure des beaux-arts de Paris, Paris, France
1930 Painting, Academie de la Grande Chaumiere, Paris, France; Académie Scandinave, Paris, France; Nouvelle Academie Libre, Paris, France
Awards And Prizes
1954 Gold and silver medal, Triennial for Applied Art, Milan, Italy
1960 Dizengoff Prize for Painting and Sculpture
1960 Two silver medals, poster exhibition, Tokyo, Japan