עברית
Alphabetical list of artists
A
B
C
D
E
F
G
H
I
J
K
L
M
N
O
P
Q
R
S
T
U
V
W
X
Y
Z
Moshe Kupferman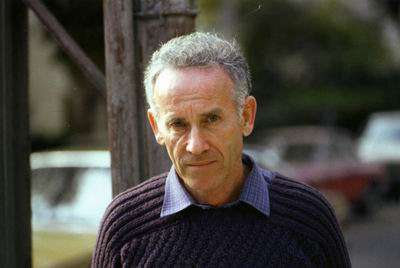 Photographed by Stanley Batkin
372 Articles
366 Artwork Reproductions
91 Exhibition invitations
Moshe Kupferman, an Israeli painter, was born in JarosIaw, Poland on August 12, 1926. In 1941 he was exiled with his family to a camp in the Urals; he lived in Kazakhstan and in displaced persons camps in Germany. In 1948 he made aliyah to Israel and became one of the founders of Kibbutz Lohamei Ha-Getaot.
In the 1960s Kupferman began with abstract paintings in monochromatic tones. During the 1970s his abstract style crystallized and began to focus on the building and "deleting: of geometric surfaces. This work process exposed the path of the painter's creative processes. In spite of the severely abstract character of Kupferman's works and his distancing from identifiable images, his work shows, as a unified whole, a political-historical connection. In 1983, for example, he painted the series called "Times of Collapse," which he dedicated to Emil Grunsweig, and in 1984, following the Sabra and Shatilla Massacre; he published an album of drawings called "With Beirut after Beirut with Beirut." In 1999 he produced a series of paintings entitled "The Rift in Time," which comprised one of Kupferman's first direct references to the Holocaust.
Kupferman died on June 2003.
Education
1973 - Course with Zaretsky and Stematsky
Awards And Prizes
1972 Sandberg Prize for Israeli Art, Israel Museum, Jerusalem
1996 Sussman Prize for Artists Depicting the Holocaust, Yad Vashem, Jerusalem
1998 Prize for Printing, Tel Aviv Museum of Art, Tel Aviv
2000 Israel Prize for Painting