עברית
Alphabetical list of artists
A
B
C
D
E
F
G
H
I
J
K
L
M
N
O
P
Q
R
S
T
U
V
W
X
Y
Z
Ori Reisman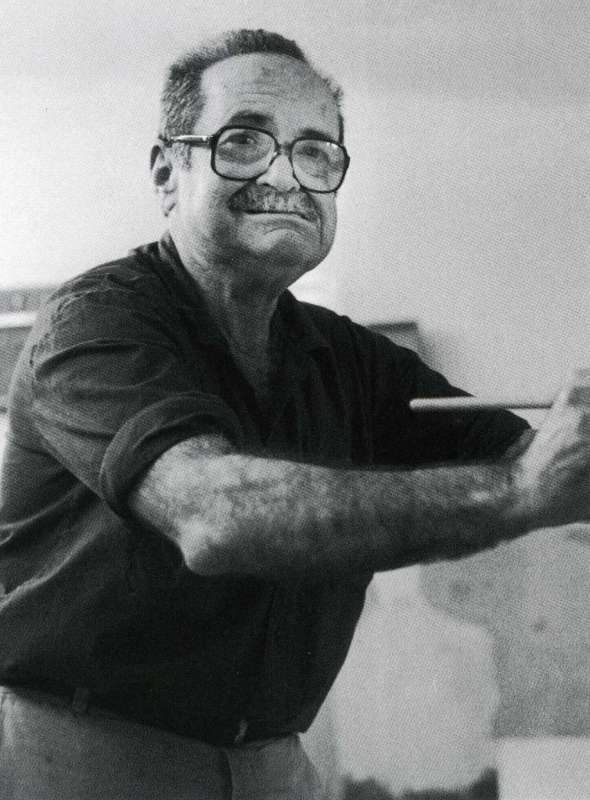 Photo: © Arie Ginton
180 Articles
21 Artwork reproductions
22 Exhibition invitations
Ori Reisman, an Israeli artist, was born on January 25th, 1924, in Tel Yoseph, Israel. In his youth he took art classes in the studio of Yitzhak Frenkel.
Reisman was one of the founders of Kibbutz Beit HaArava in the north of the Dead Sea in 1943. In 1946 he married Mazal Hamdi, who came from a Yemenite family. Reisman loved visiting them, and his synagogue paintings, portraits of family members and the 1960s depictions of Jerusalem alleys were all inspired by theses visits. During the War of Independence, Beit HaArava was evacuated and the members of the Kibbutz, along with Reisman, established Kibbutz Kabri in the Western Galilee.
In the early fifties Reisman took time-off from the kibbutz and spent two years in Paris and studied at the École Nationale des Beaux-Arts, attending painter Jean Souverbie's Monumental Art workshop. Artists Lea Nikel, Eliahu Gat, and Michael Gross were also in Paris then and Reisman formed long-lasting friendships with them.
When Reisman returned to the kibbutz, he established a studio in an abandoned building, but the kibbutz did not approve of painting. Until the mid-70s he has was allotted only two or three days a week for painting.
Reisman used oils and painted landscapes, portraits and still-life. Many of his paintings centered on Kabri: landscapes and kibbutz members. His portraits are characterized by strong colors, the earlier works are expressive and the later ones are characterized by the absence of the face. His landscapes have bright and intense color surfaces, defined by clear lines.
Reisman began showing his works in solo and group exhibitions. In the early 70s he took another leave from the kibbutz, which he spent in Paris. In 1974 he joined the "Aklim" (Climate) Group. Reisman worked most of his life at the edge of the Israeli art world and received acclaim and recognition only towards the end of his life and after his death.
Ori Reisman died on January 25th, 1991.
Education
1939 Studio of Itzhak Frenkel, Tel Aviv
1951-1953 National Academy of Beaux Arts, Paris
1952-1951 with Jean Souverbie's Monumental Art Workshop
Teaching
In his own studio at Kibbutz Cabri, Nahariya, Haifa, Ohel Sara
Awards And Prizes
1953 Prize "Concours le Franc" Ecole National de Beaux Arts, Paris
1988 The Israel Discount Bank Prize for an Israeli Artist, Israel Museum, Jerusalem
1989 The Nahum Gutman Prize for Painting and Sculpture, The Histadrut Labor Federation